First off, I'd like to thank everyone who came out to the Pacific Division show last night. We couldn't have done it without you. Now on to next weeks show!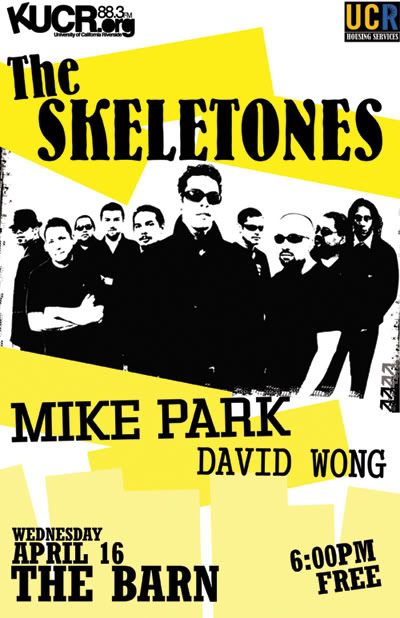 First act on the bill is David Wong From Alhambra. Wong is both an outspoken political activist as well as an acoustic musical troubadour.
In the middle slot we have San Jose's Mike Park. Mike Park is a veteran in the ska-punk scene having played in bands such as Skankin' Pickle, The Chinkees, and The Bruce Lee Band. Mike is also known as the owner of the staunchly independent and diy, asian man records, known for putting out releases by bands such as Less Than Jake, Alkaline Trio, and The Lawrence Arms. Not to mention Mike is also the head of the Plea For Peace Foundation, an organization dedicated towards promoting the ideals of peace to the youth of America, which will be opening its own youth center in San Jose within the coming months. This will be Mike's only southern California appearnace for quite awhile so that is all the more incentive to make it out to the show.

Finally, our headliners for the night will be Riverside locals, The Skeletones. The Skeletones have been bringing their take on Ska to Riverside and abroad for over 20 years and we're happy to have them come down and be a part of our Spring Concert Series at the Barn. The skeletones, during their 2 decade span as a band have had the pleasure of playing shows with bands such as No Doubt, Sublime, and Fishbone. The band's sound takes ska, rock, reggae, and several other genres, and meshes them all together to create a sound that is fresh and all their own. So support your local ska band and make it out to the show to skank your butt off. As always, the show is free and doors open at 6.
Posted on Apr 10, 2008 by armando