So how about that show last Wednesday? it was pretty exciting if you ask me. The bands had almost as much energy if not more than the crowd, which is pretty hard to find in a band today.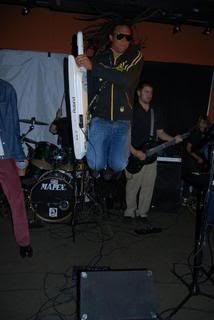 Look at the sick air that Paul is getting with his keytar! The skeletones did not disappoint that night and brought ska back to the barn in style. You will definitely see shows like this in the future as well as many other awesome line ups with a little something for everybody.
Of course you can't forget Mike Park and his awesome set. Some great songs and that video at the beginning of his set, powerful if I say so myself. Defintiely check him out people.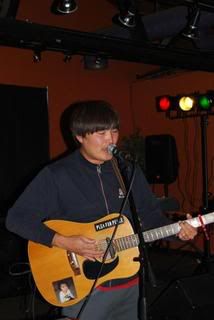 David Wong started things off right even with a little technical difficulties in the beginning. That didn't stop him from bringing his music to the crowd. Unfortunately we weren't able to get any pictures of Wong in action, but know he did an amazing job last Wednesday.
Speaking of pictures, all of the pictures used in this blog are used with permission from Sara Zitney and she thanks KUCR for bringing an awesome line up for free.
If you haven't been to the barn lately, you should definitely change that people. Especially with the show we have coming up this Wednesday. Coming this week is Health headlining and local Riverside act Jesus Makes the Shotgun Sound opening things up. Not to mention KUCR dj's spinning music throughout the night.
The opening band for the show this week is Jesus Makes the Shotgun Sound. The band's sound has been described as a transdimensional, psychadelic, melt in your face while gently drowning you in relentless ways of cosmic pleasure sonic experience that you'll have come down to hear and see for yourself.
Then we have headliners Health from Los Angeles. Health is known for having played with bands such as Crystal Crystal Castles and Dan Deacon. Health was kind enough to play this show before they embark on a trip to Europe shortly so the show is something you will definitely want to check out.
As always, doors open at 6 and there will be plenty of cheap food and refreshments to satisfy your hunger and thirst respectively. Also for those of you who are on a very tight budget, there is unlimited free chips and salsa so you should definitely take advantage of that while you rock out to the sounds of Health and Jesus Makes the Shotgun Sound this Wednesday at the Barn here in Riverside.
Posted on Apr 21, 2008 by armando