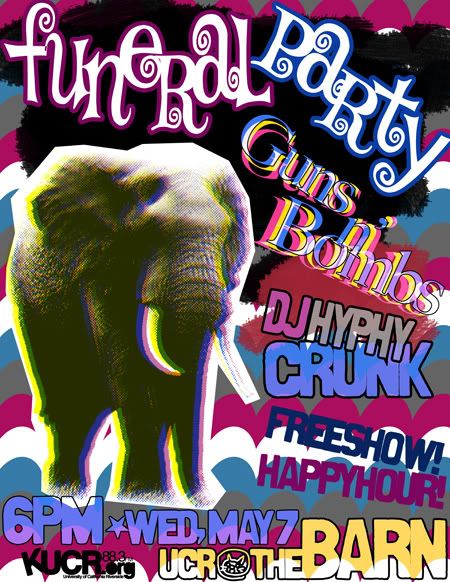 This week at the barn it's time to dress up and come on down as we here at KUCR and housing services bring you the official dance party KUCR style. Spinning throughout the night we will have Guns N Bombs and Dj Chachiwho. Guns N Bombs are well known in the LA area club scene and are bringing their intense beats and mixing skills here to Riverside to give the Inland Empire a taste of the LA sound. Guns N Bombs is made up of Ima Robot bassist Filip Turbotito and Dj Johnny Love, so you can expect to hear a quality set. Here is a video to show the kind of performance these guys bring.

GNB REMIX OF TEENAGERS LIVE @ WOMB TOKYO


Also spinning will be Dj Chachiwho, a Riverside local slowly climbing the ranks in the club scene and making a name for himself both at home and abroad. His set will not disappoint as he brings his "A" game no matter where he goes and wouldn't dream of giving anything less to the city he calls home.

Then headlining for the night we have a live set from electro dance act Funeral Party. Funeral Party is another act that hails from the LA area and plans on helping the people of Riverside have a night of fun they won't soon forget. The band has had the pleasure of playing alongside established acts such as Crystal Castles and Health Not to mention they've been featured on Indie 103.1's popular show, Neon Noise, known for bringing the best of the electro scene to the radio airwaves.

As always doors open at 6 and music should start soon after. The show is free, all ages and open to the public. Happy hour menu and drink specials, for those old enough, will be available throughout the night. So definitely come by and share a dance or two with us here at KUCR.
Posted on May 6, 2008 by armando