This week marks the final show of the spring quarter concert series at the barn and we plan on going out in style. We have a reggae invasion so hot it will set the barn on fire.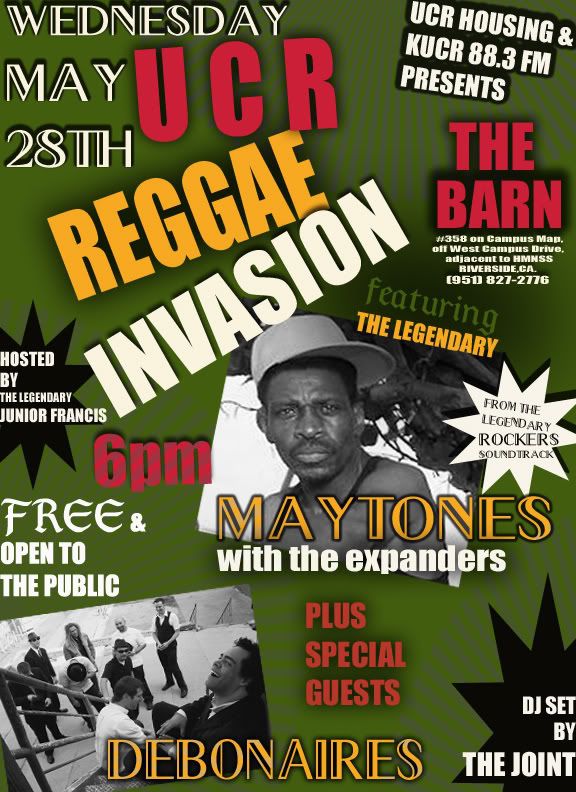 Opening up the night we have Riverside's hometown reggae heroes the Debonaires. The Debonaires have been keeping the scene alive in Riverside for over a decade and don't plan to quit anytime soon. Having played with acts such as Fishbone, Hepcat, and Desmond Dekker; these seasoned veterans have definitely made a name for themselves. Make sure to catch their set as they kick off this show and help bring this quarter's successful concert series to a close.
here is a video of the debonaires in action.

Headlining we have the legendary Maytones playing an exclusive show for us here in Riverside and won't be playing anywhere else anytime soon. Known as the one of the best bands to emerge from the golden era of reggae, the Maytones have become a staple in the reggae subculture. The Maytones were featured on the infamous Rocker's soundtrack, which launched them into music history.
here is a clip from the movie.

LA's very own, The Expanders, will be backing the Maytones at this once in a lifetime show. The Expanders have made a name for themselves throughout the years as both a backing band for legendary artists such as Alton Ellis, Dennis Alcapone, and Leonard Dillion; as well as being a band known for the level of talent they bring to the stage . Aside from this show The Expanders are gearing up for the release of their full-length CD later this year.
here is a video of an expanders in action to give you an idea of they're all about

This show is something any true music gormandizer won't want to miss out on. Doors open at 6, with KUCR's own B from "the joint" spinning throughout the night, and Bands taking the stage at 7 PM sharp. So be sure to show up early as once we reach capacity you'll be left out in the cold listening to the faint sounds of the show from outside. The show as always is free, open to the public, and is all ages. Food and drink specials will be served all night so bring the family and come hungry for a true musical experience.
Posted on May 25, 2008 by armando