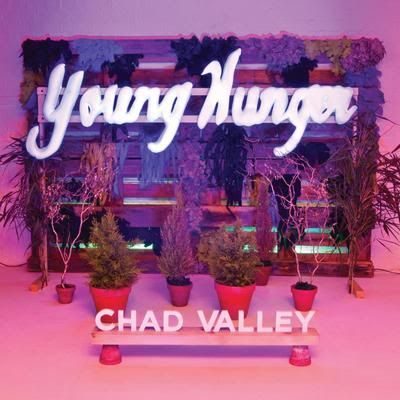 Chad Valley – Young Hunger
4.5/5 stars
What wave?  Chillwave.  That's right.  Chad Valley, otherwise known as Hugo Manuel, the front man of Oxford based tropical rock group, Jonquil, is the British exponent of the genre purveyed by Toro y Moi, Washed Out, et al.   It has been suggested for a while that the genre, chillwave, created during the summer of '08 has long outlived it's time and that it was just a passing phase.  Well, why stop the party if you come out with such a great album as Chad Valley's, Young Hunger.
Sure, it seems as if Manuel has come across the winning formula of the genre, which usually includes washed-out keyboards and livid vocals, hazy samples and drifting synthscapes but why mess with something that already works so well?  Hugo has that perfect blend of chilled electronic music and smooth, almost silken vocals that make you feel as if you are in a serene terraced café overlooking the slow sunset of a cosmopolitan cityscape.  In contrast to his hit EP song, Ensoniq Funk, that captures the lovely bittersweet energy of the end-of-the-summer, Young Hunger's thick bass, beat breakdowns, and his 80's pop tenor voice, make Manuel sound much more impassioned, especially when combined with the lyrics to the new tracks.
Another exciting aspect of the 11-track album are all of the collaborations that Manuel did with other famed pop artists.  With half of the album done as collaborations with other artists, Young Hunger manages to keep it's flow constantly moving as it is never bogged down in repetitious wistfulness, adding new levels of color, texture, and depth to each song.
The album starts off with a huge bang with I Owe You All This, a song in collaboration with Twin Shadow's George Lewis Jr.  The song starts off simple, slowly adding more and more elements and color to its palette.  Manuel opens up the song with just a driving bass and drum beat while slowly adding in the synths, more instruments, and finally with George Lewis Jr. coming in to sing a duet with Manuel.  Lewis' lower and grittier register juxtaposes Manuel's clean and pure higher register to add two separate and distinct dynamics to the song.  Despite singing in slightly differing registers, the two effortlessly weave in and out as they both take separate solos.
Sandwiched in between the great opening song and another beautiful but slower, third song on the album, Tell All Your Friends is probably my favorite piece of the album.  One of the few pieces from the album that wasn't a collaboration, Hugo Manuel shows off his skills and interest in exploring pop as a viable outlet to express his creativity in music.  Manuel begins t in this fragile falsetto by announcing, "Tell all your friends/ Tell everyone/ That all I can think about is you".  I don't believe that Manuel meant it, but to me this line just screams to me to tell my friends about how amazing the song is.  As with lots of chillwave, there is heavy use of synths, reverb, and a delay pedal, but with Manuel, he adds another special element by splashing small bursts of string instrumentals in between verses that makes the song feel like small patches of sunshine between clouds on a gray, overcast day.
Drenched in reverb, fluttering synths, and swirly rhythms, Young Hunger is the full realization of Chad Valley's experimentation to refine his sound during his last two highly praised EP's, though it is a bit less "tropical".  Nevertheless, Manuel effortlessly combines flowing vocals and dream-like synth rhythms to create a luxurious listening experience.  Moreover, the collaborations with other popular artists, don't detract from the magic of the album, but instead further add more levels of depth and color to the already flourishing songs of the album.