Playing video games and online casino games is a convenient way to enjoy the thrill of a casino floor or an esports competition at home. What's more, when you play at home, you get to control your environment with online music to accompany your games. Even if you are playing an online video game or casino game with music or sounds built into the game, sometimes it is simply better to enjoy a top notch playlist to keep your spirits up and your mind on the game.
The Power of Music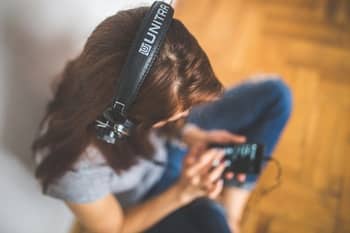 Playing music in the background while you enjoy a video game or casino game has been shown to reap many results. The biggest benefit of listening to music is it can cognitively change your perception of time. 
When you listen to music with a fast beat and quick tempo, it speeds up your perception of time such that your mind believes time is moving quickly.
The same is true of softer, slower music with a reduced speed; your brain renders time as taking place more slowly.
Why does this matter?
It matters because the music you choose for your playlist while playing online games can have a direct impact on how your brain associates time.
For example: If you only have a short amount of time to play a game, and you want to make the most of it, a slower-paced song with reduced speed will make it feel as though time went slowly, so it will make you feel as though you were able to play for longer than you actually did.
Conversely: If you have a very long amount of time to play, perhaps all afternoon, then you can play faster music with a higher speed to make it feel as though time passed quickly.
The second biggest benefit is the emotional power of music. If there is a particular type of music with which you grew up, listening to 90's classics or 80's classics while you play online games can bring about feelings of nostalgia whereas if you want to create a particular emotional connection, like joy or happiness, then you can play fast paced pop music or rap, or perhaps opera if that is your particular fancy.
So which songs should make the top of your playlist?
Music for Online Games
There are many iconic songs featured in games, but listening to the same songs over and over can dull any mood-boosting effects and hamper your perception of time, so reduce the volume on your online games and turn on a personalized playlist with the top songs for playing online.
For metal fans…
Linkin Park has a great song, "One Step Closer" which has made its way into many movies and video games, the perfect thing to listen to when you need to break out of a video game castle or a secret room. Consider the fast and iconic "Through the Fire and Flames" song by Dragonforce, the perfect song for a game like League of Legends. It has guitar and drum components that give off a fantasy feel, perfect for your next raid. "Warriors" by Imagine Dragons was actually used as the anthem for many League of Legends esport teams, so don't forget to add it to your list as well. "Bodies" by Drowning Pool is great for Fortnite as is "Unstoppable" by The Score.
For fans of 80's…
If you want something a bit more old school, consider an 80's top hits playlist while you play your video games. Start with the retro stylings of "Break My Stride" by Matthew Wilder, the perfect accompaniment for your next winning streak and then turn up the beats with "Maneater" by Daryl Hall and John Oates. Add from these two artists "You Make My Dreams", "Never Gonna Give You Up" by Rick Astley and then refresh your mood after a successful match, raid, or round with the softer tunes of "Africa" by Toto.
For rap and pop fans…
You can start with songs like "Mexico" by Shotgun Willy, "2055" by Sleepy Hallow, "Montero" by Lil Nas X, and "What You Know Bout Love" by Pop Smoke. COnsider the top track "Miss the Range" by Trippie Red. Then add "Don't Go" by Skrillex and Justin Bieber.
The right music can improve your mood and your gaming experience. So the "right" playlist will be a combination of the songs you like most, with the genres you prefer.
Posted on Oct 25, 2021 by vanessa